Two AryCare Units
The AryCare

Home Unit

will provide the assistance necessary for a single caregiver to easily care for a bed-ridden or severely disabled person. This unit will lift and transfer up to 500 lbs. Storage space is not an issue, since the unit can remain in place over an average length bed. Only a standard wall outlet is necessary for power.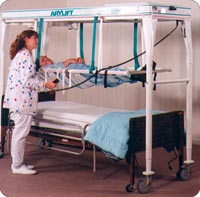 The

C1000

will serve many purposes in a medical facility. Supporting up to 1000 lbs, the C1000 offers durability and stability unequaled by any other lift. Swing-away legs allow for access to various medical procedures, such as X-ray and MRI, while an onboard power supply greatly enhances mobility. This unit is also very useful for very large at-home patients.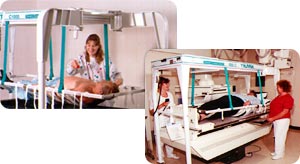 Common Features
Both AryCare units offer features unmatched by other leading lifting units.


| | |
| --- | --- |
| | Lift, repostion, or transfer patients to wheelchairs safely and without physical strain to you or the patient. |
| | Change bed linen quickly and easily. |
| | Give patient or loved one a relaxing, hygienic shower. |
| | Greatly reduce the incidence of pressure ulcers. |
| | Perform routine hygienic procedures, such as administering enemas, with greater ease. |
| | Use with trapeze or other physical therapy equipment to enhance rehabilitative treatment. |
| | Eliminate the need for more than one patient handling system or lift. |
Home Unit Specs


Dimensions - 97 3/4" L x 76 1/2" H x 30" W
Power - 120 VAC

C1000 Specs


Dimensions - 97 3/4" L x 76 1/2" H x 30" W
Power - 120 VAC